FOR IMMEDIATE RELEASE
March 11, 2022
Contact: WisDems Press (press@wisdems.org)
Self-Serving Johnson Tour: State Legislators and Milwaukee Business Owner Celebrate Biden's Recovery, Call Out Johnson for Prioritizing Raising Taxes and Taking Health Care Away From Working Wisconsinites
Becky Cooper, owner of Bounce Milwaukee: "I can say with 100 percent certainty, that if we had not gotten this relief, we would have closed our doors and laid off all of our employees… Every Republican, led by Ron Johnson, opposed the legislation for reasons that I cannot understand"
MADISON, Wis. – Today, on the one year anniversary of President Biden signing Democrats' American Rescue Plan into law, state Senator LaTonya Johnson, Assistant Minority Leader Representative Kalan Haywood, and owner of Bounce Milwaukee Becky Cooper celebrated the ways the ARP has delivered for their communities. 
Speakers highlighted how Democrats are working to lower costs for working families, while the Republican Party and Ron Johnson have once again committed to stripping away health care from hundreds of thousands of Wisconsinites, raising health care costs, and increasing taxes for 32% of Wisconsinites.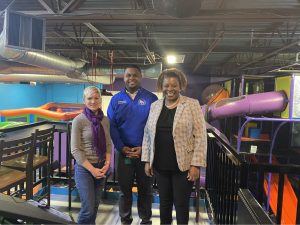 Owner of Bounce Milwaukee Becky Cooper:
"Thanks to the leadership of the Democrats in Congress and President Biden, we got the relief we needed. We're only able to stand here today because of the American Rescue Plan… I can say with 100 percent certainty that if we had not gotten this relief, we would have closed our doors and laid off all of our employees. As you can see, that did not happen. We are open, we are back in business, we have increased wages and we're unionizing, and we're coming up on our busiest weekend since 2020. 
"While the American Rescue Plan kept our cities' businesses and families going, every Republican, led by Ron Johnson, opposed the legislation, for reasons that I cannot understand. Instead, it seems Ron Johnson has been focused on his self-serving agenda: Rip health care away from Wisconsinites and raise costs for everyone else, give massive tax breaks to the wealthy – while raising taxes on everyday Wisconsinites to make up the difference – and tell small businesses in their darkest hours that they're on their own."
State Representative Kalan Haywood: 
"Today marks a year of the American Rescue Plan being signed into law thanks to President Biden, and I want to say thank you to the Democrats in Congress. Thank you for listening to the people. This wasn't a policy that was pushed because of any political reasons, it was simply because Democrats understand what Americans went through over the last two years…we are enacting policy and that is about solving issues.
"So we have a U.S. Senator here in Wisconsin, who fought against this – U.S. Senator Ron Johnson and his Republican colleagues fought against helping Americans recover. Now, the government's job is to serve the public that we represent, it's our job to be partners in the center of the road to recovery. Senator Johnson, and his colleagues on the Republican side of Congress, fought that."
State Senator LaTonya Johnson:
"Republicans have shown us over and over again who they really are, what they care about, and who they serve. They have lost sight of Wisconsinites – their concerns, their issues, what affects them most in their daily lives. They have lost concern for you.
"The American Rescue Plan saved thousands of jobs in this state, it allowed our schools to reopen safely by providing things as simple as air purification systems for some of our oldest schools and masks for our children. It provided additional dollars for our businesses so they wouldn't have to close and it allowed those who are on the frontlines to have the PPE gear that they needed to safely return to work and to protect themselves and their families. The American Rescue Plan worked because Democrats put people first – they put you ahead of their own interests, and that's the way the government is intended to work."
# # #