For Immediate Release
Friday, October 12, 2018
Contact: Brad Bainum, bradb@wisdems.org
It's Hard To Overstate This: Leah Vukmir Had An Awful Week
MADISON — Republican U.S. Senate candidate Leah Vukmir had an abysmal week that found her alternately losing by 10+ points in polls and scrambling to defend her record of selling out Wisconsinites.
Here's Leah Vukmir's week in review:
MONDAY:
On Monday, Tammy Baldwin for Senate announced it raised more than $6 million during July, August, and September, with an average online donation of $19. Vukmir's campaign declined to release their fundraising numbers.
That evening, at the first general election U.S. Senate debate, Vukmir defended her plans to repeal the Affordable Care and gut protections for Wisconsinites with pre-existing conditions.


Later, asked if she had any regrets about siding with insurance companies as the only Wisconsin Senator to twice vote against expanding oral chemo coverage, Vukmir just shook her head.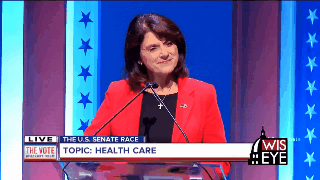 TUESDAY:
Leah Vukmir again sided with insurance companies and powerful special interests to oppose Tammy Baldwin's measure to stop the Trump Administration's expansion of "junk" insurance plans, which let insurers charge older Americans more and deny coverage to people with pre-existing conditions.
WEDNESDAY:
Marquette University poll released a new poll showing Vukmir down by 10 points, and Vukmir spent the day campaigning with Vice President Mike Pence, who previously touted Vukmir as the deciding vote to repeal the Affordable Care Act and gut its protections for Wisconsinites with pre-existing conditions.
While Vukmir has continued to campaign on repealing the ACA, Wednesday's Marquette poll found that 93% of Wisconsinites believe it's "important" to maintain the ACA's protections for people with pre-existing conditions.
Relatedly, the Marquette poll also showed that Vukmir has a -13 favorability rating.
THURSDAY:
Vukmir is forced to defend her record of selling out Wisconsin seniors and future retirees, including her record of repeatedly blocking funding for Alzheimer's and dementia care and research.
Separately, new NBC/Marist polling showed Vukmir losing by 14 points, with 40 percent to Tammy Baldwin's 54 percent.
FRIDAY:
The Milwaukee Journal Sentinel released a new report on Vukmir pushing a bill that "has made it more difficult to hold nursing homes accountable for wrongdoing" — and that she did so to the benefit of her longtime employers and campaign donors.
Vukmir responded by again defending her 2014 efforts to stop legislation that required insurance companies to cover oral chemotherapy, actively criticizing the bipartisan oral chemo bill, despite the fact that Gov. Scott Walker signed it into law and called it "life-saving."