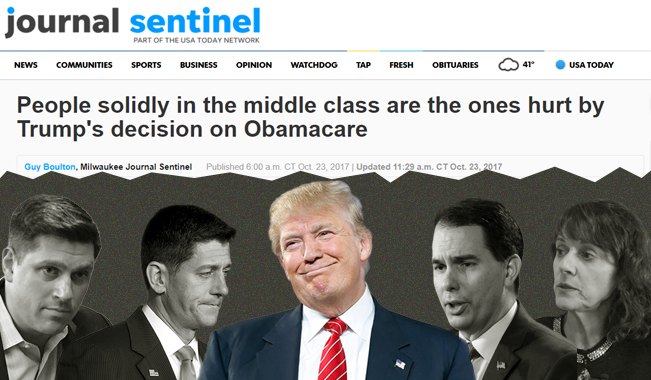 For Immediate Release


October 25, 2017


Contact: Melanie Conklin, 608-260-2409, DPW Communications Director
Contact: Brad Bainum, A DPW Spokesperson for the 2018 Senate Race

Middle-Class Wisconsinites "The Ones Hurt" By GOP Healthcare Sabotage
Wisconsin Republicans endorse 36% higher healthcare costs
Walker, Ryan, Nicholson, and Vukmir back GOP-led premium increase that hits hardworking Wisconsinites the hardest
MADISON

— Thousands of Wisconsinites are

set to face a 36% increase in healthcare costs due to Republican sabotage of health insurance markets. With premiums set to spike, Republicans and Democrats in Congress — including Wisconsin's Tammy Baldwin — have come together to support a strongly bipartisan fix that would

help m

itigate the damage inflicted by President Trump's sabotage, stabilize insurance markets, and lower premiums for hardworking Wisconsinites.

But rather than endorse these positive steps to lower health insurance costs for Wisconsin's working families, top Wisconsin Republicans are instead endorsing higher healthcare costs on Wisconsinites:
GOP Senate candidates right-wing state Senator Leah Vukmir and out-of-state billionaire puppet Kevin Nicholson — both of whom support TrumpCare legislation that would kick people with pre

–

exisiting conditions to the curb and take healthcare away from tens of millions — have officially rejected the bipartisan fix, effectively endorsing the 36% premium increase.

Like Vukmir and Nicholson, Speaker Paul Ryan continues to push for a full-out Obamacare repeal-and-replace, refusing to back the bipartisan stabilization bill, and instead advocating TrumpCare legislation that would end anti-discrimination protections for Wisconsinites with pre-existing conditions and strip healthcare away from millions.

"After months of healthcare sabotage and trying to take away millions of Americans' insurance coverage, Wisconsin Republicans had a clear choice: join Democrats in improving healthcare access and affordability for all Americans, or embrace Trump increasing healthcare costs for hardworking Wisconsinites," stated Martha Laning, Democratic Party of Wisconsin chair.
"Unfortunately for middle-class Wisconsin families, Scott Walker, Paul Ryan and both Republicans running against our health care champion Sen. Tammy Baldwin have firmly opted for the latter."
Read more from the Milwaukee Journal Sentinel: People solidly in the middle class are the ones hurt by Trump's decision on Obamacare.

# # #