Follow this newsletter to keep current on the events shaping our state and the work our party is doing to win in 2018 and beyond.
You're invited!
Join us at the 20th Annual Eleanor Roosevelt Reception!
Thursday, October 11: 5:00 – 8:00PM
The Edgewater Hotel, 1001 Wisconsin Place, Madison, WI 53705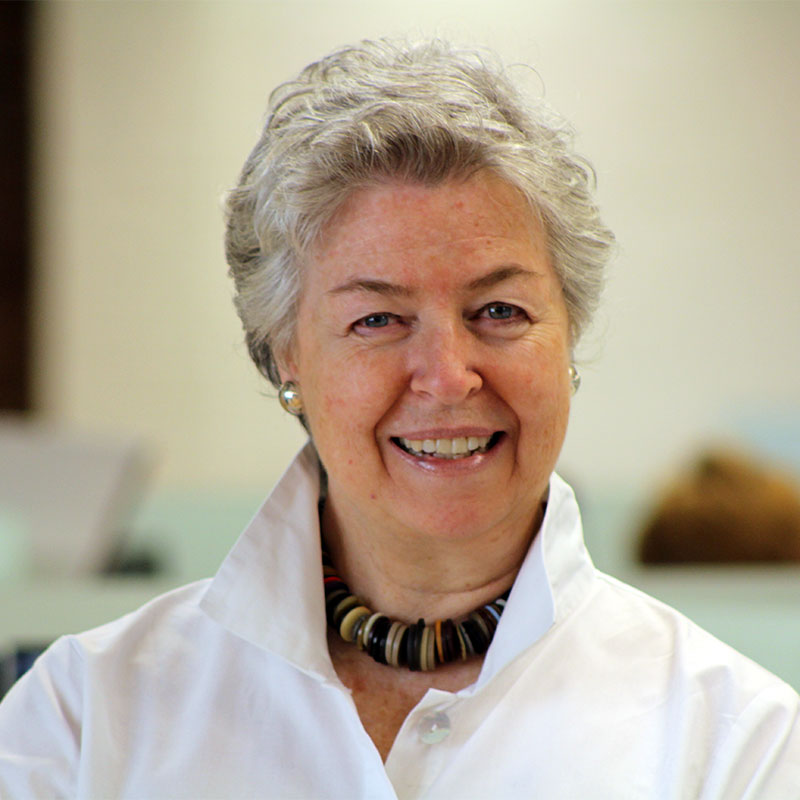 Held every year since 1998, the Eleanor Roosevelt Reception is a celebration of women in Wisconsin Democratic politics. The purpose of the event is to raise awareness of the importance of women in politics and to continue building a network of women that bring issues of concern to the forefront of the political arena. We are excited to announce our special invited guest, Anna Eleanor Roosevelt, granddaughter of Eleanor Roosevelt! This year's theme is "Imagination, Integrity and Courage" which is taken directly from one of Eleanor's Roosevelt's quotes:"Once more we are in a period of uncertainty, of danger, in which not only our own safety but that of all mankind is threatened. Once more we need the qualities that inspired the development of the democratic way of life. We need imagination and integrity, courage and a high heart."
For more information, please contact Amy Donner, amyd@wisdems.org.
Tammy doing right by our veterans
I love this new ad of Tammy's. Anyone who knows our Senator Baldwin knows that she cares deeply about our veterans. That's why over 100 Wisconsinites joined Veterans for Tammy to support Tammy's work in the Senate to make sure veterans have the care, community support, and good-paying jobs that they have earned and deserve.
We should not be playing politics with problems at the VA. These are serious problems that deserve serious solutions.
Not surprisingly, Republicans and Tammy's opponent are blasting ads across the airwaves, trying to shift the narrative away from the hard work that Tammy has done for Wisconsinites. But Wisconsin knows that Tammy's always stood up for our veterans, and that's why I'm so proud to be working to get her re-elected to the U.S. Senate. Please, do whatever you can, whether that's knocking doors, making calls, or talking to your friends, family and co-workers. We all need to be pulling in the same direction to get Tammy across the finish line in November.
36 days left
In 36 days, we have the opportunity to redefine politics in Wisconsin, to turn our state blue and restore Wisconsin's progressive tradition. The stakes are so high, and people across the state are stepping up to make sure that change becomes reality.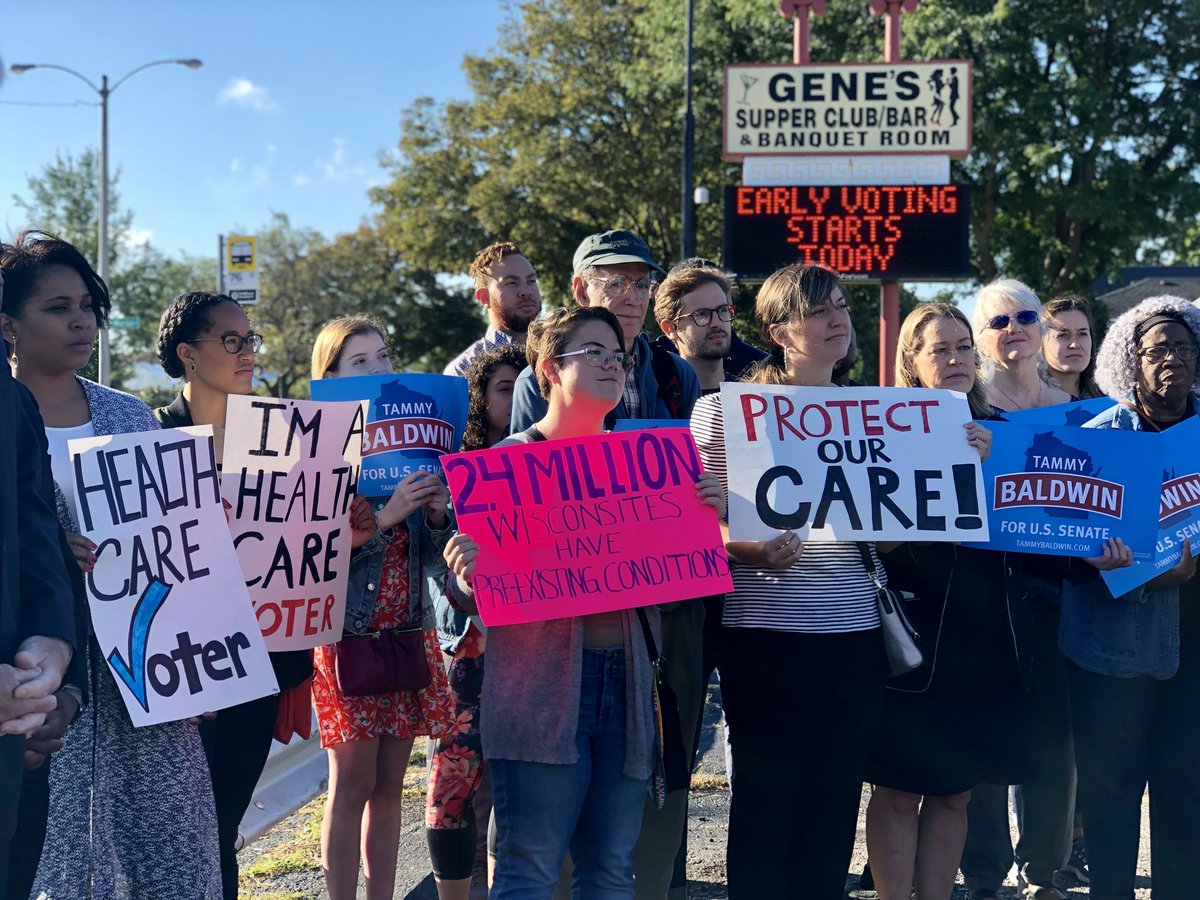 With major issues on the ballot like affordable healthcare, funding for our public schools, and fixing our roads, winning this election is huge for our future, and we can't do it without your help. If you're interested in being a part of the movement to re-elect Tammy Baldwin, elect Tony Evers and Mandela Barnes, and elect Democratic leaders up and down the ballot in every corner of the state, please use this link to find a volunteer opportunity in your neighborhood!
Here's another Dem to keep on your radar! Tom Palzewicz is running for congress in WI-05 against Jim Sensenbrenner who's been in office for 40 years. In 40 years, a lot has changed. Rep. Jim Sensenbrenner hasn't. Meanwhile, 40 million Americans live in poverty. More than 40%.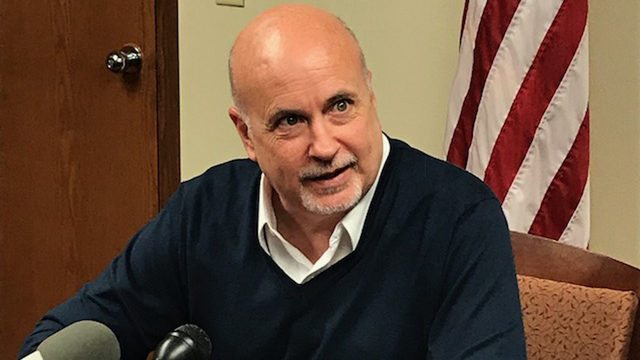 Thank you Rep. Pocan for being a tireless advocate for our Latinx and immigrant communities in Wisconsin. Every Wisconsinite deserves to feel safe and be treated with dignity and respect no matter their legal status or nationality.
Republicans walking away from Walker
Republicans are walking away from Walker in droves.
In just the last few days, several former Walker cabinet members have ramped up their criticisms against Walker. Former Corrections Secretary Ed Wall appeared in a new video highlighting the nearly 3,000 sex offenders currently unaccounted for in Wisconsin because of Walker's lack of leadership. Then former Transportation Secretary Mark Gottlieb slammed Walker for "fear mongering" in ads about addressing the state's transportation problems. Walker's former Finance Secretary Peter Bildsten has also spoken out about being pressured to meet with special interests during his time as a state official.
"Walker talks a big game, but he is weak and reckless when it comes to protecting our families." — Ed Wall, Walker's former corrections secretary
And that's not all Walker has to be worried about — the latest poll has Tony Evers up 50-43 over Walker! This is the steepest uphill battle Walker's faced yet, and believe me, he's panicking. Walker's finally realizing that his scorched earth attacks are driving people away and that Wisconsinites are simply fed up after 8 years of his neglect and misplaced priorities.
From lagging poll numbers to strong denouncements of his ability to lead our state, Scott Walker is losing support faster than we can keep up. But polls don't vote — we need to keep up the work all the way to November 6 to be sure we elect Tony Evers to the governor's mansion. Tony will lead with our Wisconsin values and make sure that funding our schools, fixing our roads, and getting every Wisconsinite affordable, comprehensive health care are a priority on day one.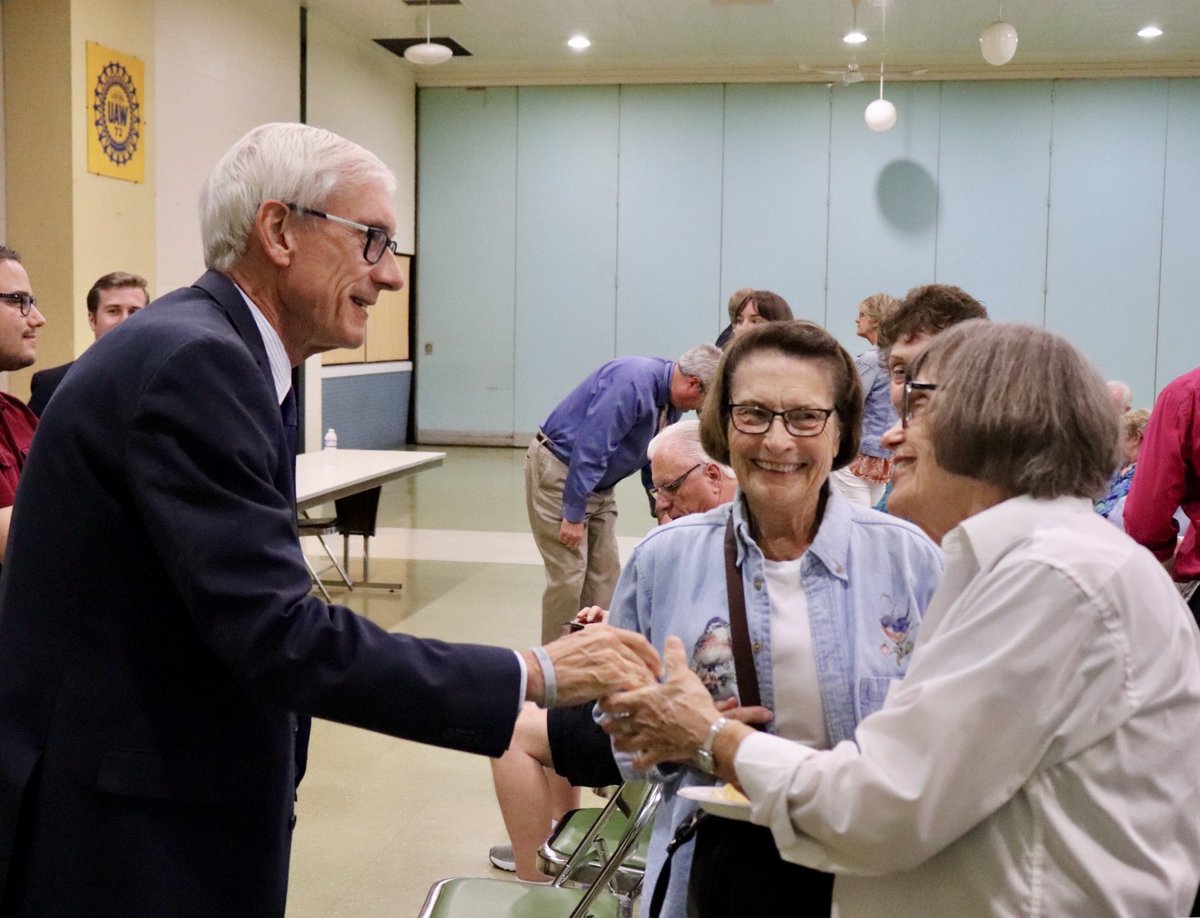 "Packed room in Kenosha yesterday for a great meet & greet with supporters. As we travel across Wisconsin one thing is clear: folks are fired up to take our state back this November!" — @Tony4WI
Brad Schimel's bad judgment

Brad Schimel's record is getting muddier by the minute as recent discoveries show that he let a convicted sexual assaulter off without so much as a slap on the wrist. What's more, he blamed the survivors in two cases, saying they had "very bad judgement". This is not the standard to which we should be holding our elected officials, let alone our state's "top cop." Schimel neglected crime victims long before he became Attorney General, and that needs to end now.
Looking out for one another
Many of us had a challenging week, upset by the Kavanaugh hearing and the surrounding news cycle. Republicans have spent the last few weeks shaming survivors of sexual assault and harassment while being extremely dismissive of these allegations brought forward by Dr. Christine Blasey Ford and Deborah Ramirez. Their behavior has been shameful and hurtful to many.
It is shocking to me when there are so many judges to choose from to have the great honor of serving on the US Supreme Court that the President and Republican senators still push forward with his confirmation. I believe Dr. Blasey Ford, and I find it reprehensible that Republicans are brushing these credible accusations away.
To all the survivors of sexual violence out there: I see you, I hear you, I believe you. You deserve to be supported, and I'm so, so sorry that you have not felt that from all your political leaders.
You're not alone — you can get help and resources 24/7 from a trained sexual assault service provider in your area.
Call 800-656-4673 to be connected today.