FOR IMMEDIATE RELEASE
July 13, 2021
Contact: Julia Hamelburg (julia.hamelburg@wisdems.org)
Wisconsin Parents Thank President Biden and Democrats for Expanded Child Tax Cuts, Blast WI GOP for Voting Against Them
Julie from Franklin: "The expanded child tax credit is a perfect example of Democrats delivering for Wisconsin."
Watch the discussion here
Madison, Wis. — Earlier today, Democratic Party of Wisconsin Chair Ben Wikler moderated a roundtable with six Wisconsin parents to discuss how the expanded Child Tax Credit (CTC) will help their families. The parents who spoke at today's event thanked President Joe Biden and Democrats in Congress for passing the American Rescue Plan, which funded the advanced payments and delivered critical relief to families across Wisconsin.
The expanded tax credits, which passed Congress without the support of a single Wisconsin Republican, will provide payments of up to $3,600 per child to the families of 1,159,000 Wisconsin children beginning July 15, lifting more than 46,000 kids out of poverty in the state.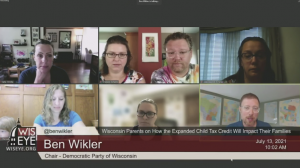 "Today is a celebration of President Biden and Democrats in Congress delivering for Wisconsin through the expanded credit and the American Rescue Plan—and a repudiation of the Republican Party," said Democratic Party of Wisconsin Chair Ben Wikler, a father of three. "Every Wisconsin Democrat in Congress voted for President Biden's American Rescue Plan and for this expanded Child Tax Credit. Every Wisconsin Republican in Congress and Ron Johnson in the Senate voted against this benefit. This benefit is now set to support working families across our state thanks to the work of Democratic leaders."
Here's what the six parents from across the state had to say about President Biden's leadership and how the expanded child tax cuts will help cover their household expenses:
Chelsea Powell, a mother of two from Racine:
"It's really important that families like the ones on this call, and families across Wisconsin, get access to the tax breaks that are available and that funding from our federal government supports us and not corporations. The expanded Child Tax Credit is delivering on that for families across Wisconsin and the country."

"When policies like this pass, it shows that elections matter."
Julie Zepnick Gringas, a mother of five children from Franklin:
"This time last year, we were worried about putting too many groceries on the credit card and how we were going to pay that off later. We couldn't afford to have any of the kids participate in extracurricular activities, and you know how heartbreaking it is to say 'no you can't do something.' But now we can afford those opportunities to bring them joy."

On what the child tax cuts mean for her children:

"My 16-year-old will be able to get his driver's license…we can afford to get him through driver's school."

"My 14-year-old is very good at the violin and has been practicing a lot on her own, but she'll be able to get private lessons now."

"My 11-year-old can play football."

"My 8-year-old twins are just excited to be cheerleaders."

"The expanded child tax credit is a perfect example of Democrats delivering for Wisconsin."
Katie Strelka, a mother of two from Brookfield who was laid off from her job last year:
"When President Biden took office, I felt like I could finally see the light at the end of the tunnel. We're going to start seeing expanded Child Tax Credits—for my family, these credits will go directly towards child care."

"

The expanded Child Tax Credit is the perfect example of how good, strong leadership can make an immediate impact on our lives.

The second the credits start hitting our accounts, it will take such a burden off of us."
Greg and Jill Schams, parents and public school teachers from La Crosse:
"Thanks to President Biden's pandemic response, we're finally able to end the school year back in our school classrooms with our students, so life was starting to feel like it was getting back to normal and we were able to serve our students in a better, more productive learning environment."

"Having kids is wonderful, but it's expensive. We're just excited to receive the extended Child Tax Credit, which now can go towards groceries, clothes, activities, and other essentials [that] our family needs."

"Helping families and lifting kids out of poverty should not be a partisan issue."

"We're really, really thankful that President Biden and Wisconsin Democrats like Sen. Baldwin and Rep. Ron Kind [are] pushing with the American Families Plan to make this extension permanent."
Amber Larson, a mother of three and volunteer with the Progressive Moms of Wisconsin Group from Eau Claire:
"Almost 1.2 million children getting this tax credit in the state of Wisconsin is so amazing and impactful."

"We're super excited and proud that President Biden created this opportunity for our family—and I'm so happy to say that this is definitely going to have a direct impact on my family for the rest of the year."

On the Biden-Harris administration's recovery efforts: "We were hopeful that things would get better and, as they promised, they have…

It's nice to now feel like the people in charge are fighting for us as working families.

They are trying to make our lives better, and they have made our lives better."
You can watch the roundtable here.
# # #