Tim Michels Doubles Down On Loyalty To Extreme Anti-Abortion Groups
MADISON, Wis. — Tim Michels has doubled down on his loyalty to extreme anti-abortion groups, both in statements and fundraising emails.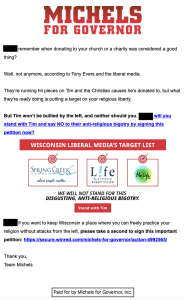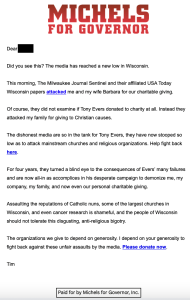 Pro Life Wisconsin, cited in Michels's fundraising email, wants to go even further than the already restrictive 1849 abortion ban by making all abortions illegal, even when the mother's life is at risk. They also support bans on most common forms of contraception and birth control, as well as fertility treatments like IVF.
As the Journal Sentinel reported, Michels's personal foundation gave $175,000 in 2020 alone to a number of anti-abortion groups, including Pro Life Wisconsin and Wisconsin Right to Life. These groups are so extreme that their views run contrary to the majority of Wisconsinites, and even the 79% of Republicans who say they favor abortion access in cases of rape or incest.
"Where Tim Michels spends his money shows his true values. It's clear Michels will stop at nothing to take away a person's right to make decisions about their own body," said Democratic Party of Wisconsin Rapid Response Director Hannah Menchhoff. "Even worse, Michels is doubling down on his support for these radical policies and even fundraising off of it. If you don't think Michels is serious about further restricting abortion access in Wisconsin, just follow the money."
# # #